I think about user interfaces a lot. I like to understand how people interact with software, so much so that I used to be a regular reader of Jakob Nielson's useit.com, perhaps the only example of an expert whose aesthetic sense was inversely proportional to his understanding of user behavior. The pleasure of using a great interface doesn't apply to the "average" user, even hardcore programmers enjoy the beauty of a great user interface. Besides, hardcore programmers rarely make great interface designers.
So here's a couple of drop-dead gorgeous interfaces I've stumbled onto recently. All of these had something so awesomely simple and beautiful, that whilst using it, I'd just stop and stare at how wonderfully all the parts fit together.
1. Tapedeck. If you ever record music on your Mac, you need to look at tapedeck. The idea seems so simple as to be absurd – all tapedeck purports to do is to let you record songs on your Mac. But I could do that already on GarageBand where GarageBand had so many more features. But here's the rub – it takes a lot of clicks and menu pulling, and name choosing to do such an elementary thing as record a track from the in-built mic in my Mac. I had already experienced this pain-point when recording tracks in jams with friends at home. But I had no idea how much of pain it was until I downloaded tapedeck and tried it.
Within a minute of using it, I was hooked. The brilliance of the user interface is the central metaphor of the tapedeck to organize the recording (here's a blog post of their design process). But it is much more than that – the infinite stack of "tapes" creates an intuitively appealing spatial metaphor to organize your stack of recorded mp3 files. Since I've been using tapedeck, I've been recording so much more productively.
2. Muxtape. I never experienced it myself, but according to my American friends, the way you know that a boy really likes a girl (or the other way around) is if the boy makes a mixed tape (or burns a cd) for the girl. Mixed tapes are the ultimate sign of thoughtful intelligent curation. Such effort to create one can only be a signifier of true love.
The value in mixed tapes owes partly to the fact that they are such a bitch to make. I remember the days of the dual cassette deck and nimble coordinated pressed of the pause and record buttons. With iTunes and playlist, it got considerably easier to make. However, this new website muxtape.com has taken the ease of making mixed tapes to a whole new level of ease and sophistication.
The interface is the most gorgeously simple interface of any website I've seen (that purports to do something useful). It is clean, table based, and colorful. There is nothing that is not necessary, and everything is so … balanced. Now, dedicate a muxtape to me and prove how much you love me.
p.s. muxfind.com is a good way to start exploring existing muxtapes.
3. For All Seasons. I love text. I love people who do crazy things with text. And there's no more strange and beautiful thing you can do with text than this beautiful demo For All Seaons.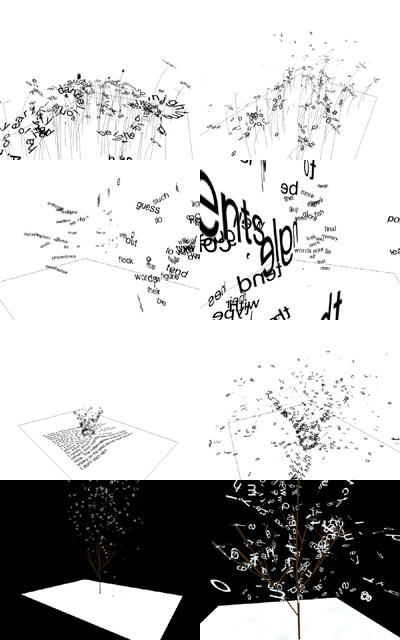 4. Leo Burnett Website. Flash is so 1990's. I normally get a gag reflex when I see a website done with flash. The bile slowly rising my aesophagus is the result of hundreds of lost hours using some shitty web-designer's attempt at programming. Still, it's 2008, and there is proof that really trippy effects (in a good way) can still be had with mouse and browser, as evident in the website of the self-style best marketing communications company in the world, Leo Burnett.
5. Uniqlo. This website "ad" is so fucking unusual that I can't even begin categorize it. But I can tell you how I found out about it. Whilst reading Apple related news, I stumbled onto British Design & Art Direction, an organization that is something like the Fields medal for design and advertising. Every year the B&AD awards are announced and they are so exclusive that some years, they don't give awards (the BLACK pencil) in certain categories. Of course, the iMac and the iPhone scooped the BLACK pencil award in 2008, but intriguingly was this winner for the internet advertising category, Uniqlo. It was so addictive that I watched it for a full 10 minutes before realizing that I had no idea what it was about, except now I have Uniqlo (a kind of Japanese Gap?) stuck in my head. Perhaps forever.
Aaron · 06/13
I'm a huge fan of muxtape's this-almost-seems-legal overall feel.
Aaron · 06/13
I'm a huge fan of muxtape's this-almost-seems-legal overall feel.